Amped Airsoft Sponsored Players Series
ft Airsoft Brittney
Published by Eric Tedeschi
Sponsored Player Spotlight Series
We're excited to introduce our brand-new player spotlight series dedicated to our sponsored airsoft players who have made a positive impact on the airsoft community. Through this interview-style series, you'll get a glimpse into the lives, gameplay style, and experiences of these awesome individuals.
An Interview with Airsoft Brittney
Up first in our series, we are proud to present our friend and sponsored player, Airsoft Brittney. With a powerful presence both on and off the field, Brittney has taken the airsoft community by storm since her introduction to the sport in September 2021.
From her first Milsim at Iron Horse 4 to her nomination for Best Female Airsoft Player in the Players Choice Awards, her journey has been nothing short of amazing. We had the pleasure of sitting down with her to talk about her experiences, background in airsoft, and favorite gear. Let's get into it.
And remember, this is just the beginning – keep an eye out for more episodes and insights into the world of Amped Airsoft's sponsored players. You definitely won't want to miss it!
Q: Where are you from and what is your home/local field?
A: We are based in Nashville, Tennessee and our home field is Hellhounds Airsoft.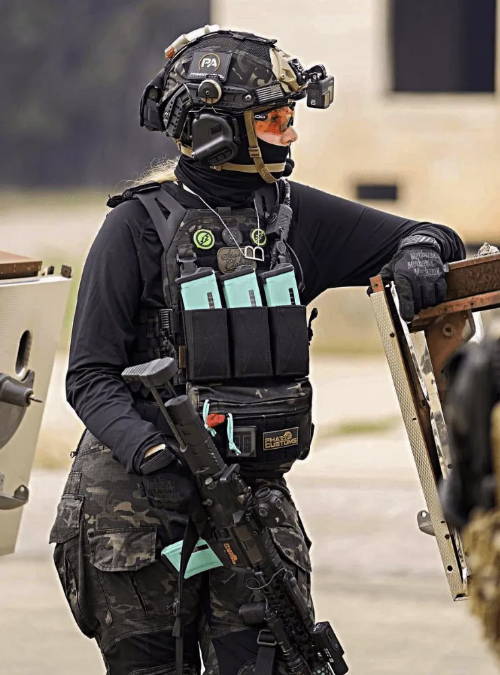 Q: How long have you been playing airsoft and what was the reason you started?
A: I began playing in September of 2021 after I stopped racing motocross professionally. Airsoft was the next hobby I decided to pick up. I have always been around real steel firearms because of my family's police and EOD background.
Q: How did you get sponsored by and come to know Amped Airsoft?
A: My first ever Milsim was Iron Horse 4 at Guardians Center in Perry GA. Here, I met up with the Amped Guys after corresponding with them about a potential sponsorship. I felt right at home with the staff and crew, reminding me of my favorite sponsorships I had during my Motocross Days.
Q: What has been your favorite airsoft event you have ever attended and why?
A: My favorite event to date was American Milsim's Copperhead 2022. The desert environment is a huge change of scenery, and being present with all of my friends made it all the better.
Q: What is your favorite part of playing airsoft?
A: I love the environment, airsoft community, and simply getting to shoot and use my replica!
Q: What was your first airsoft gun?
A: The Cyma Colt Licensed M4 CQBR with a Polarstar Kythera Engine in it!
Q: What is your favorite current airsoft gun?
A: I love my Phatco custom BCM MCMR by VFC!
Q: Give a quick overview of your kit and what you like to run when playing.
A: My go to armor choice is the Warrior Assault Systems plate carriers, owning several in different colors. On my back, I prefer to run a Black Gen3 GMR minimap. On my head I typically sport an Ops Core Bump helmet and Bloc eyewear. When it comes to footwear I wear vans, and on my hands I wear Mechanix gloves. And of course, Amped Patches!
Make sure to follow her on instagram @airsoftbrittney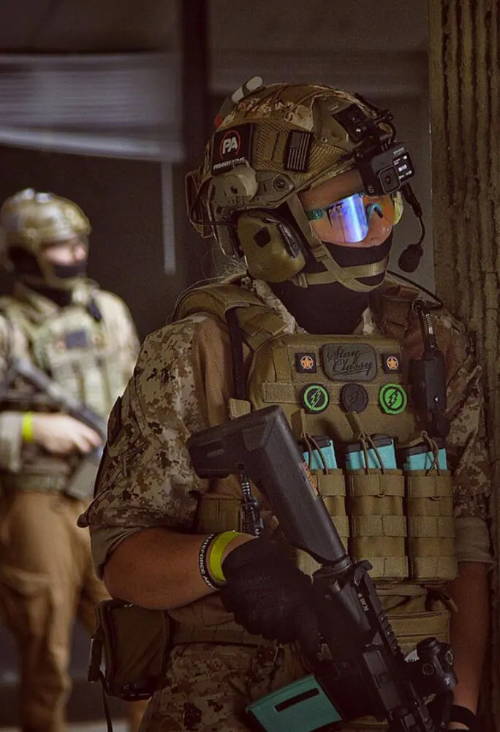 Amped Airsoft Sponsored Players
Overtime, we at Amped Airsoft have grown as well as refined our community and player-centric brand. Although there are plenty of ways we have been able to do this, our Amped Airsoft sponsorship program is one way we have been able to expand our brand through players who we feel represent our company while simultaneously being a positive force for the Airsoft industry.
Although Amped Airsoft has had different sponsorship guidelines over time, our current program combines everything we have learned since the conception of the company and previous revisions of our sponsorship guidelines. First and foremost, Amped Airsoft does not sponsor airsoft teams, but rather individuals that we feel represent our company's brand and best interests. That being said, there are fewer than five teams that Amped Airsoft does in fact sponsor due to their long standing relationship with Amped Airsoft as well as their staunch loyalty to our mission.
We currently have a relatively tight knit group of Amped sponsored players that regularly play together across the country. To become a sponsored player, one must already be on the company's radar, being recommended by Amped Airsoft Employees, or other sponsored players. Following this, the player will be invited to join the program during an event attended by the company. They must sign an ethical agreement basically saying that they will represent our brand positively both on and off the field.
For the Players, By The Players