Amped x ATI SUB5 HPA Airsoft Pistol
Many airsofters have undoubtedly considered the possibilities of a high-pressure air (HPA) engine-powered pistol build. And years ago, it seemed impossible. However, ATI's founder, who had envisioned it for years, took matters into his own hands and embarked on the journey of developing what is now called the "SUB5". The path to its creation was not without challenges, largely due to the ambitious goal of making it as compact as possible. However, the SUB5 was eventually brought to life through arduous development, the electronic expertise of MAD Design, and extensive prototyping. Materializing as an SLS Nylon PA12 printed marvel, it boasts HPA engine power in a pistol-like form, all at under 500 grams (giving it its name).
Airsoft Tech Incorporated (ATI) have joined forces with us, Amped Airsoft, to help build, customize and distribute an already game-changing product that is set to revolutionize the competitive world of airsoft. Combining the ATI manufactured SUB5 and the HPA expertise of Amped Airsoft, to offer unparalleled performance, durability, and style for competitive airsoft players.
At the heart of the SUB5 is the highly acclaimed Polarstar F2 HPA engine, which is renowned for its impressive power output, consistency, tunability, and efficiency. This high-pressure air (HPA) system is perfect for those demanding optimal performance from their airsoft weaponry. The fully adjustable system allows the user to fine-tune the velocity and fire rate to suit their needs, providing a competitive edge on the battlefield.
One of the standout features of the SUB5 and how it got its name, is its exceptionally light weight of just 500 grams, making it a breeze to handle in fast-paced games.
This compact and lightweight design is a crucial element for competitive airsoft players who need to react quickly and accurately during gameplay and tournaments. The SUB5 has been designed with agility and speed in mind, ensuring that it is comfortable to use when every split-second counts.
The SUB5 also boasts a custom-made trigger board by MAD Designs, offering a responsive and tactile feel to the trigger system. This is a crucial component for airsoft players who demand optimal performance under pressure. Additionally, the trigger itself will match the two-tone color option chosen, adding a unique touch of customization to your weapon.
"We don't copy the standard, we reinvent for the better"
Built and Tested by Amped Airsoft
One of the major benefits of the SUB5 HPA F2 Airsoft Pistol Speed Build is that it comes pre assembled, meaning that you don't need to spend time and effort finding compatible parts and putting them together. This is a major advantage for those who prefer a hassle-free, ready-to-use weapon straight out of the box. The SUB5 is carefully built and tested by the skilled technicians at Amped Airsoft, ensuring that it meets their exacting standards.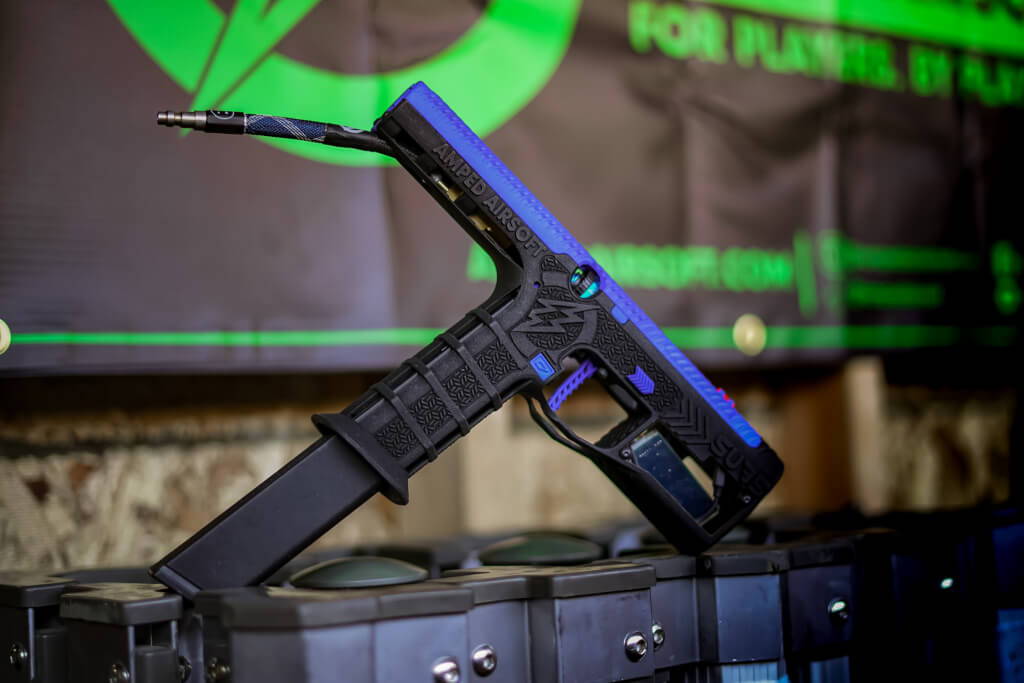 The SUB5 will be available in various stunning two-tone color options, providing airsofters with the ability to choose a style that suits their personality and preferences. These striking color combinations, paired with the matching trigger, selector switch, and IGL grip line, really set the SUB5 apart from other airsoft pistols on the market.
In addition, the SUB5 offers a threaded barrel for tracer units and is RMR ready, allowing you to easily mount a micro red dot sight. Both perks you'll want on the field for quicker target acquisition and enhanced accuracy.
In conclusion, the SUB5 HPA Airsoft Pistol Speed Build is an innovative and impressive collaboration, manufactured by ATI and assembled by Amped Airsoft, delivering an exceptional HPA pistol that combines power, speed, and style in an incredibly small package. Whether you're a competitive speedsofter or just someone looking to up your game, the SUB5 is here to deliver.