The Ultimate Airsoft Guide to Face and Eye Protection

Eye and face protection are the most important items to have in your airsoft kit. They protect you from the inherent safety hazards, which we as airsofters have experienced and seen. While airsoft is a fun and usually safe sport, theres nothing fun about getting shot in the teeth by a 6mm plastic bb traveling at 400 feet per second. But no need to worry as there are many different ways to protect yourself! Some options include full-face paintball-style masks, lower mesh face protection in combination with goggles, and glasses.
But which one is best for you? Or... Which will keep you from fogging up? And what is the difference between goggles vs glasses vs a full-face mask? We're going to break it down into basic categories to help you safetly have fun on the airsoft field.
"...theres nothing fun about getting shot in the teeth by a 6mm plastic bb traveling at 400 feet per second."
Full Face Masks and Goggle Systems
If you're new to airsoft, you will likely be spending the most in your first year of playing and chances are you'll be spending the most on an airsoft gun. While its essential to play, a good full face mask is something you dont want to cheap out on. Lucky for you, there are plenty of different ways to achieve good face and eye protection at a reasonable price.
If you are a young player, most airsoft facilities actually require that participants under 18 years of age wear a full airsoft or paintball style mask. These types of beginner masks tend to offer full coverage from your forehead to your jaw line and sometimes have added ear protection.
We usually suggest the Empire Helix Goggle, to parents of young airsofters because they provide maximum protection and are the most budget-friendly choice. This one-piece protection set includes a thermal optically correct lens to prevent fogging with a 270-degree field of view. The Empire Helix Goggle comes in a variety of colors like OD green.
Additionally, the JT USA Spectra Proshield Mask features 260 degree visibility and features reliable protective full coverage.
There are plenty of full face options for experienced players as well. Paintball-style masks can provide additional fog resistance, comfort and customizabilty.
Dye Precision creates premium full face goggles that are universally used by both paintball and airsoft players of all levels. The Dye series has become a staple for indoor cqb and competitive speedsoft players due to their anti-fog thermal lens, comfort, unique style and vast color options. The Dye series of masks offer full coverage while maintaining levels of comfort and clearness that are second to none in the industry.
Here at Amped, we offer both the Dye i4 and Dye i5 models. Both styles provide maximized protection, but the newer i5 model offers a wider face profile and upgraded crank-style retention system. Dye Precision offers a vast collection of color options for their masks and lenses that are available to purchase separately.
Similarly, the Push Goggle System also provides maximum protection, visibility, and comfort. These masks offer total face fit customization with an adjustable nose bridge, soft earpieces, and plently of ventilation to help beat the fog while on the airsoft field. The Push Goggles are available in different colors and unique styles.
If you want a more premium goggle, but dont want to pay the steep price, HK Army has a similar but cheaper mask. They also provide great protection for both airsoft and paintball players are known for their unique mask designs and color options. The popular HK Army Skull Goggles are not only one of the most interesting masks we've seen, but they are ASTM-Certified to withstand paintballs or airsoft pellets.
Our Favorite Full-Face Masks for Airsoft:
Goggles, Glasses, and Mesh Masks
If you are looking for face protection but prefer realistic and Milsim type of gameplay, dont worry there are plenty of options for you. The same level of protection can be reached by using lower mesh face masks alongside safety rated goggles or glasses.
Mesh masks are a low profile way to protect the users mouth and nose. The metal mesh allow you tobreathe and speak clearly, which help to prevent goggle fog. Many different companies across the industry offer lower face masks including Emerson Gear, NB Tactical, S Blades, or Matrix.
It is essential to pair lower mesh masks with ANSI rated goggles or glasses for optimal safety.
Airsoft goggles should always be full seal and ANSI Z87 rated, which means they can withstand high mass impact. Out of the thousands of goggle options available we've selected some of our favorites.
The Smith Optics Elite OTW Goggles or the Revision Desert Locusts are both full-seal goggles that will keep your eyes safe on the field and are backed with a lifetime warranty from the manufacturer.
Glasses are a low profile way to protect your eyes in airsoft. They should also be ANSI rated and full seal. Most airsoft players who use glasses for protection are typically older and more experienced players. While they keep your eyes safe, there is far less protection due to most of these options having non-full seal configurations. We offer plenty of options, however, we will go over the variants that we have proven to be the most effective on the field. The Pyramex - I - Force Dual Lens is a great budget friendly option with a "built-in" full seal.
The lenses include dual pane technology to prevent fogging and protect your eyes from UV rays. We think they are quite honestly amazing.
Another, often-used pair of glasses, are the Oakley SI-Ballistic M-Frames. Oakley is known for their high-quality products that can withstand extreme high-velocity impact. They are more expensive than the alternatives but offer uncompromising protection. They don't come with a built-in full seal, but you can attach the removable gasket system.
The final version of glasses style eye protection is our personal favorite, Pit Vipers. While Pit Vipers are not full seal, they offer several great features that protect your eyes. All Pit Vipers that we carry here at Amped Airsoft are Z87+ rated, in other words, safe for airsoft usage. In the box, you'll get an adjustable headband that you can choose to add to your pair. You can also angle the lenses down to protect your eyes further as well as extendable temple pieces. They also make you look really... really cool.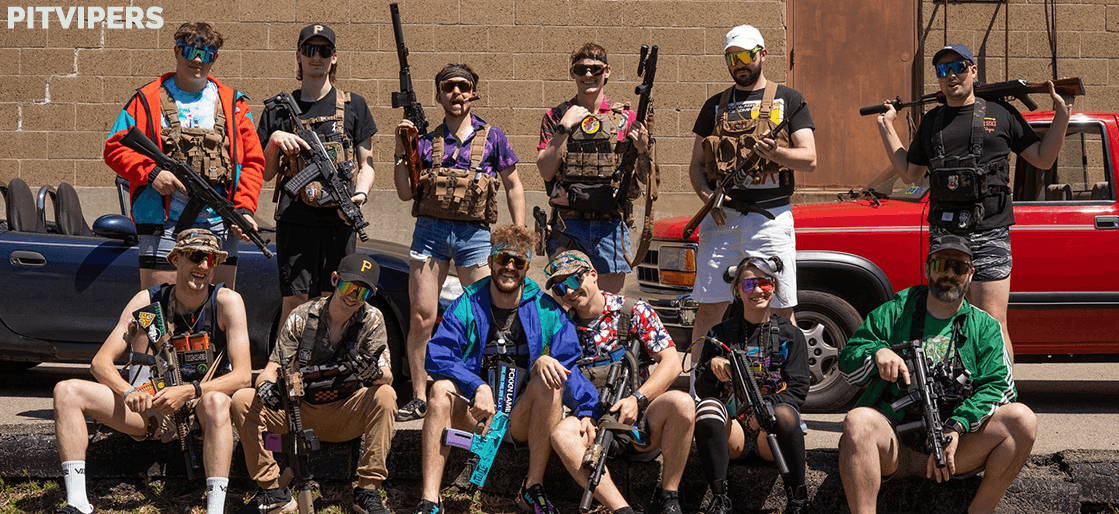 *Keep in mind that all fields and events have different rules regarding eye and face protection. We recommend you follow up with your local airsoft field or read the rule set for any events you attend to find out their requirements.
One of the worst things to happen mid-gameplay is " goggle fog." Lucky for us, a solution exists and it's called ExFog. Imagine hiking with all your gear into enemy territory, getting ready to line up your shot, and just like that, your goggles are fogged up and you can't see your opponent.
ExFog is an anti-fog system that mounts to your headgear with Velcro (or by using their headband options) to regulate the temperature inside your goggles using two tubes that push out air. ExFog is an absolute game changer and has saved us from Goggle-Fog countless times.
In addition to Exfog, Valhalla Airsoft created the Integrated Airflow Gasket which is designed to be used with the Exfog system to provide easy, consistent, and safe airflow across the inside of your eye pro. You just clip these onto your glasses or goggles, plug the tubes into the tube guides, turn on the Exfog system, and you're done. Say goodbye to poking your eyes with tubes or having to MacGyver your expensive HELO kits. We recommend both these systems for fogless gameplay.
For a cheaper, but temporary, solution, you can also use fog wipes and spray. Check out all of our anti-fog solutions here.
If You Aren't Sure...Ask.

Overall, eye protection is by far the most important thing that an airsofter can invest in within the bounds of this hobby. Without a clear and protective eye pro, your airsoft experience can be quite frustrating, and even potentially hazardous.
Here at Amped Airsoft, we are more than delighted to help you get set up with the protection that best suits you. If you still have questions, reach out to our customer service using the chat option or drop us a line via email.