Product Description
The Amped Integrated Grip Line or IGL is Amped Airsoft's original solution for replacing the weak and flimsy macro line that typically powers HPA conversion for airsoft replicas.
The Amped IGL is available with fittings compatible with most HPA units on the market from manufactures like Polarstar, Redline, Wolverine and Protech.
Our Amped Heavy Weave line features a thicker sheathing like the one on our Tippman High Pressure Line. The thicker weave sheathing provides a tough layer of protection while still allowing the inner line to flex as needed during gameplay.
Due to the nature of the thicker braid, our heavy weave lines are also more vibrant visually than our standard IGLs. Whether you choose a bright colorway or more subdued natural colors for your Amped Heavy Weave IGL, your IGL will stand out visually!
The Amped IGL is constructed from a durable, widebore line and is available in many different colors. Custom text is also available for only $1! As always, every piece is hand-made and tested right here in the good ol' USA and carries our lifetime-limited warranty against manufacture defects.
Additional Information:
Carries a limited lifetime warranty against manufacturer's defects.

Each line is quality control tested after being assembled.

Available in many different colorways to make your lines unique to YOU!

Durable nylon sheathing adds color to your line and protects it from damage without compromising its flexibility.

Custom text available to add your name, call sign, or anything you want!

Utilizes industry standard FOSTERS fittings.
Installation Tips:
We suggest using a 1/2 inch drill bit to enlarge the hole in the grip plate or remove the grip plate entirely for proper fitment of the AGL.
You may have to increase the hole size of your upper grip motor hole to accommodate the size of the line. This may or may not be a requirement depending on your rifle.
Warnings and Notices!
Lines may have a processing time of up to two business days as they are made to order. We appreciate your patience while ensuring you receive the best product possible.
The Amped IGL for GEN2 Wolverine units will only work with the Wolverine GEN2 units that have the "non-recessed" air port as of 1/5/2018. Please see our image below for a Wolverine unit that will not work with the IGL.
Due to the tight fit of this product on some units, you may need to unscrew the solenoid and screw in the IGL so that they are able to fit along side each other.
This IGL Line is NOT rated for and WILL NOT work with the Tippman M4. Please see our

Tippmann IGL

for this application.
We reserve the right to refuse production of any hateful or derogatory custom text. Custom text must be in English characters only.
Our Inferno, Reaper, and Hydra GEN 2 IGLs will not work if your unit has the following recessed hose port as shown in the following picture: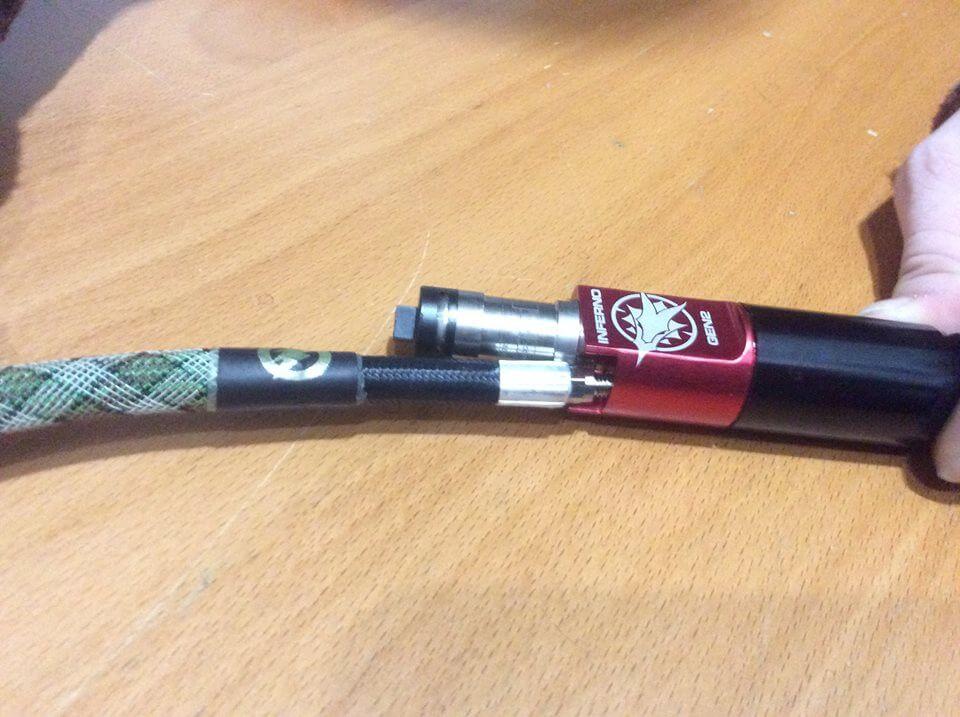 CALIFORNIA PROPOSITION 65
WARNING: This product contains chemicals known to the State of California to cause cancer and birth defects or other reproductive harm.
Custom Field